Apparently, many hunters have a nemesis in regards to harvesting an animal that has eluded taking up residence in their freezer or being hung upon a lonesome void on their wall. I have more than one such nemesis. A grizzly bear seems to top the list. I've been on no less than five guided hunting trips for grizzlies and brown bears and still don't have a hide with five-inch claws to admire. There were a couple of pack trips into the Wilmore Wilderness in years when grizzlies could be hunted in Alberta if a tag was drawn. The bears were there but just not where we happened to be. During the many days in the saddle, we often noticed grizzly tracks over top of our horse tracks as we returned to camp. On other days, grizzlies were spotted high upon ridges but weren't of the requisite gender. There were lots of digs and scat in the area but no matter what we did, the boars eluded us.

The trips to the Wilmore were wonderful experiences well worth the time and effort regardless of the outcome. There were a couple of guided trips to northern BC but again, the guided hunts resulted in no grizzlies to show for our efforts.

The most recent trip was a boat hunt for brown bear in southeastern Alaska in the spring of 2015. We saw more than 60 brown bears in 10 days but only four of them were mature boars. We blew two stalks on a very large boar that would have been the one and only grizzly / brown bear I would take.

One of the stalks in an old growth coastal forest resulted in getting within 30 yards of a well-educated old boar but a giant cedar tree obscured my opportunity for a clean shot. The three other large boars we spotted were rubbed so badly they looked like someone had strapped a tan coloured saddle to their backs.

My next nemesis is a bighorn ram of significant proportion. As some sheep hunters might say, any legal ram is a good ram. That's likely true if you haven't shot a legal ram; if you've taken a few rams, that adage isn't so relevant. An unwritten rule among many experienced sheep hunters is that once the first ram is on the wall, the next one should be somewhat more mature. I buy into that rule but once a hunter gets up to three or four bighorn rams, the next one gets much harder to find.

I can recall seeing only two exceptional rams during 35 years of bighorn sheep hunting. One was in the Kananaskis and the other near the Clearwater River. Both were close to the magic 180 mark. However, each ram spotted us first and were never seen again.

Nemesis number three, until recently, was a decent six-point bull elk. I've taken a couple of five-point bulls and passed on quite a few more. I had a chance at a really big six-point bull while hunting just outside the Suffield Military Base during the 2014 hunting season. At the time, it took about 11 years to draw a tag for a bull elk in that area so I hunted solo every legal day of the season plus a number of other days on scouting missions. I stayed in a comfortable lodge near Empress but never saw the place in daylight, leaving the lodge well before daylight and returning well after dark each day. Up to the last day of the season, I had seen a few scraggly six-point bulls but none worth considering. Finally, on the last morning of the hunt, a very impressive six-point bull and his winger appeared from the east and trotted hastily towards the fence, which would put them into the safety zone. The two bulls stopped for a few seconds on a small ridge about 400 yards from my position. I lined up my rifle on the big bull just a second too late. As I released the safety and put my finger on the trigger, they turned sideways and ran out of sight in an instant.

Two years ago on a ranch I've been hunting for quite a few years, I had another chance at a six-point bull. This time, the hunt was spoiled by an anti-hunter who (illegally) harassed the herd. A herd of more than 200 head was closing in on our hiding spot until the anti-hunter started honking his horn and firing shots. All of the commotion caused the entire herd to skid to a stop, do a 180, and retreat to their previous location. 

Fortunately, I have some friends who own a cattle ranch in the foothills of the eastern slopes and they allowed me and some hunting friends to book a time slot for the last week of October in 2020. Our group of four hunters planned to hunt the ranch on a bit of a staggered basis starting on opening day.

Cal and I found unmistakable signs of a big elk herd the day before the season opened but they were hanging out several miles from the land we had permission to hunt. We knew the elk could easily move 10 or more miles in a single evening so each morning is a completely different experience. After a couple of days of frustration trying to guess if and when the elk were going to show up at our hunting spot, our luck changed. From a vantage point a couple miles east of the ranch, we sat and glassed in almost complete darkness. As the sun eased its way out of the shadows, we began wondering if the shapes we were seeing could be animals. The elusive dark shapes slowly but surely revealed themselves to be elk. Not a few elk but a herd of about 300 elk.

As we started to make our way closer to the herd, a few of them became aware of our presence and headed swiftly into the trees. The rest of the herd soon joined the stampede out of the field and our chance to make a play on them had already evaporated for that morning.
Brendan with Geoff (right) and Geoff's elk.
Later that day, Cal and I picked a location on the ranch that would give us a chance to take a bull the next morning if the herd moved in the direction we hoped they would. We set up pop-up blinds so that we could slip into them well before legal hunting time the following morning. For the first half hour of legal hunting time, we watched some white-tailed deer slide through a grove of trees near us but didn't see any elk. Thinking our location might not be ideal, I elected to leave my blind and go for a walk. Within ten minutes of leaving the blind, I noticed a couple dozen elk doing an end run in the poplar trees around the location of our blinds. In hindsight, it appeared they had picked up our scent even though we thought the slight morning breeze was in our favour. They hadn't seen me so I quickly moved into position next to a clump of poplar trees and set up for a shot. This was a different herd from the previous day, maybe 150 or so, and they were headed to the meadow where I was now sitting. Many of the elk in the herd spotted me within a couple seconds of entering the meadow and became instantly confused as to what their next move should be. Some retreated to where they had come from, but others milled about nervously and still others stood their ground in astonishment. I could see literally dozens of elk with antlers of all sizes staring at me at a bit more than a hundred yards away. With this many elk now in the meadow and many of them stacked four or five deep it was quite difficult to pick out a good bull. It reminded me of an exceptional duck hunt where several hundred mallards descended into the decoys in a single pass. The unexpected barrage of ducks was so mesmerizing that only a few of them hit the ground, notwithstanding four or five hunters having ample chances for shots. Amazingly, a couple of the hunters never fired a shot.

After a minute or so of what seemed like utter chaos, a six-point bull suddenly stood alone with no other elk behind him. He had a respectable six-point rack, so a decision was made quickly. One shot with my 300 H&H and the hunt, for me at least, was over.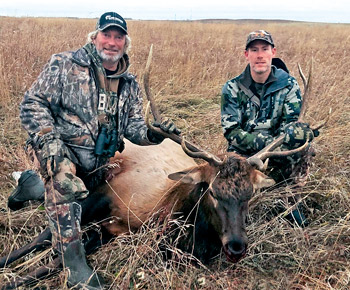 Cal with Brendan (right) and Brendan's elk.
Cal and I spent the rest of the day getting the elk ready to take to the butcher. I talked with Brendan and gave him the exact location of where the bull was taken. He and Geoff were excited to hear I had taken a nice bull. The next morning while Cal and I were busy taking the meat to the butcher, Brendan and Geoff were waiting well before dawn for the elk to arrive. Luck was with them when a single bull walked into the same meadow where I took my bull just the day before. Geoff made the shot count and the second six-point bull was down. Before noon, they had the bull field dressed and loaded into the back of Geoff's truck.

Brendan let me know that he was planning to hunt in the afternoon and asked if Cal and I would be there. We said we would and the hunt for a third bull was on. By 3:00 pm, Brendan had located a herd of about 25 elk, which contained a nice five-point bull. The herd was on the move so Cal and I helped Brendan keep track of them. Brendan's only option was to attempt a stalk across a fairly open pasture. Cal and I were able to watch episode three play out, as Brendan crawled into position and made a good shot on the big bull. No missing an empty net on this bull.

Our hunting group had three impressive bulls on the ground in two consecutive days. If you're a hockey fan, you might call this a hat trick, of sorts. My jinx on a six-point bull elk was finally over. My next challenge is to rid myself of the grizzly jinx. Since BC and Alberta are currently closed to grizzly hunting, for no logical reason I might add, another trip to Alaska is now on the radar screen. ■



For previous Reader Stories click here.