ASK A PRO
OUTDOOR PURSUITS
READER STORIES
PHOTO GALLERY
TRAIL CAM GALLERY
HUNTERS OF THE YEAR
ANGLERS OF THE YEAR
RECIPE OF THE MONTH
ORDER YOUR
BACK ISSUES TODAY!
ONLY $7.00
(includes shipping)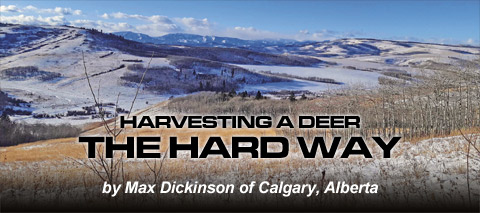 My first big game season had been outlandishly unsuccessful. I had spent five full weekends in the field and had managed to see a doe with two fawns, running full tilt away from me. Not entirely awe-inspiring for a newbie adult hunter. Coupled with several unsuccessful grouse trips, most people would be ready to throw in the towel.
I spent the next year reading every article I could find on hunting, watching every video on YouTube, bugging everyone I came across who hunted for advice, amassing all the gear my bank account could muster and before I knew it, big game season in Alberta was here again.

Opening day finally rolled around; we were there an hour before legal light. I pulled up in my 2001 Dodge Ram 1500 and started unloading my gear. I was with my buddy Kyle who was equally as inexperienced, but he shared my enthusiasm for learning and putting miles on the boots.

It was a popular spot, so we were sharing these wee hours with about 20 other trucks! Undeterred, we marched in, having no idea where we were going. We had done zero scouting up to that point, just relying on advice from others about the zone.

During that day, we saw several mule deer, a few whitetails, six coyotes, and a pair of moose. I was more than excited, being that this was the most game I had ever seen on public land. Even so, we still left empty-handed that day. Abundance of wildlife does not negate the fact that you need to have half an idea of what you are doing to be able to harvest an animal.




Many weekends like this passed. Each time we went out, we were learning something new and slowly inching closer to sealing the deal. Time, however, was running out.

November 14, 2020; another day chasing deer. We had stalked one whitetail from more than a kilometre away. With the wind in our favour (covering our scent and sound), we had managed to use the lay-of-the-land to sneak up on her. Lying just the other side of a shallow hilltop, Kyle lifted his head and ranged the deer.

"One-hundred and twenty yards," he whispered to me.

I lifted the riflescope to my eye, just to watch the deer turn on her heels and trot over the hill into the thick timber. Sitting up, we realized that two hunters hiking up the hill had spooked her. She was gone.

I was done, exhausted, I missed my family, my legs hurt, it was almost last light and as far as I was concerned, that was my last chance of the day.

We trudged back to the road, chatting about our disappointment at a regular volume. We had reached the flat lane that led out of the zone and back to the truck; we stopped to catch our breath.

"There's a deer over there," Kyle said, nodding his head to the opposite field.
He was right. There, plain as day was a whitetail grazing in the fading light. I let out an audible sigh and weighed up the situation.

"Okay, let's go!"

We both stormed up to the tree line between the deer and us. I was expecting it to bolt at any minute, but it didn't seem to see us. We got to the trees but the light was fading.

"Three-hundred yards," said Kyle, holding the rangefinder to his eye.
That was too far for a novice marksman like me to take an ethical shot from. In the back of my mind, I was still expecting the animal to wind me any second, as I crept through the timber. I was on my hands and knees now, crawling through the snow with my rifle on my back until I reached a fallen tree. I propped my rifle up on it.

"Two-hundred and four," said Kyle.

This was it; I focused the crosshairs on the greyish-brown body of the animal. It took a few more steps and then it was dead broadside to me. Trying to remember everything I had learned about taking a steady shot, I exhaled and squeezed the trigger.

The gun going off startled me and I lost the deer in my scope momentarily. When I refocused my sight, the deer was on the ground. It lifted its head slightly, and then expired. I was still nervous that my bullet didn't find its target and the animal was still alive. Causing unnecessary pain was something I really wanted to avoid. By the time we got to the deer, it was obvious that it was dead. I thanked it for its life and reflected on what I had been through to get to this point. That was two minutes before legal shooting light ended.

Neither of us had gutted a deer before. I had a pdf saved on my phone and Kyle was reading the step-by-step guide to me, as I haphazardly navigated the process. By the time I had finished, it was completely dark. With our headlamps on, we dragged it back to the truck. I sent a nonchalant text my wife, trying to act as if it was no big deal, but inside I was vibrating.

I was still bitter sweet about the whole ordeal and it was a feeling I could not shake. I was fine with taking the life, it was not an act that I relished, but I knew it was a necessary part of harvesting an animal. Although the days in the field were arduous, cold and tiring, I had enjoyed every moment and was sad that it was over for another year. I am grateful, however, for every lesson learned and every memory etched into my consciousness. ■




For previous Reader Stories click here.