The word I received before boarding my flight to Edmonton at camp in Fort McMurray was that my hunting partner had a field loaded with Canada's, snows, specks and mallards to get on in the morning, if I was interested? Well, of course I was interested and could not get home quick enough.

After de-boarding the flight, I boarded the shuttle to the Park'n'Fly, picked up my truck, and took to the highway for the two and a half hour drive home to Lloydminster.

I arrived home around midnight and quietly and hurriedly went about getting my gear together for the next morning's hunt with my buddy Scott and two acquaintances of his.

We met at the field at 06:00 hours and went about getting set up. We put two A-frame blinds together, end-to-end, tucked up against a straw bale and then busied ourselves putting out a mixed silhouette spread of 20 dozen Canada and specklebelly goose decoys and a pair of lucky ducks.

When the sun came up, I could not believe how many birds were in the immediate vicinity. There were thousands milling about the early morning sky in all directions.

My buddy Scott and I sat in my blind and the other two fellows took their places in the second blind tucked up to our blind. One of the fellows had a nice little female black lab that nestled her way into the narrow opening between the two blinds and sat peering out over the decoy spread keeping a vigilant watch on the sky out front.

The birds didn't come easily but more than enough worked our spread into close range, wings cupped and committed providing us with some great action. We ended the morning with our limit of 48 birds on the ground, 24 ducks and 24 dark geese. What a great way to start the playoffs!

I called the final week of my 2021 waterfowl season the playoffs due to my season having been broken into a three part conference, as a result of turnarounds dividing my time between hunting and work. The plan was to continue scouting and finding venues to play on for the rest of the series. Following is game two and the rest of the series.

Game 2 was an afternoon hunt, as Scott had to help his uncle haul grain in the morning so while he hauled I scouted for an afternoon hunt.

After inviting him to join us on our afternoon hunt, my trap-shooting buddy Ed asked if he could join in scouting too, so the two of us headed out at daybreak to find some birds. Within an hour, we had more possible hunts than we could count on all our fingers and toes.

We decided on a field with about 1000 ducks working it.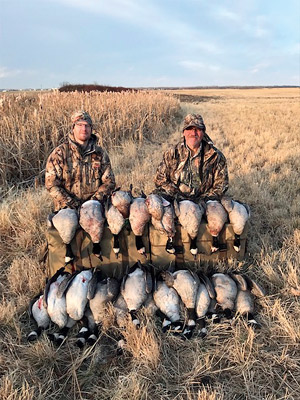 Scott and Frank with a nice haul of Canada geese.

We met Scott at the field later that day, set up the blind in a small hole between a few trees along a brush-lined slough, put out a few dozen decoys, and settled in. The birds moved much later than usual, not coming to feed until the final hour of legal shooting time. Though they did not arrive in the numbers of the morning, we still managed 17 ducks and three big honkers. The birds that presented us with opportunities did so in text book fashion—wings cupped, and feet down over the decoys. Is there anything prettier to a waterfowl hunter? If so, I've never experienced it!

It was my trap-shooting buddy Ed's first waterfowl hunt in over 30 years. On the drive home at the conclusion of the hunt, he said, "I stood to shoot at that first small flock after you called the shot and noticed neither you nor Scott stood to shoot." We had decided to let Ed have the first flock to himself. He continued, "I shot two of the three closest birds feet down over the decoys and thought to myself I forgot how fun this game is." He followed by saying, "Maybe I should look into buying a goose gun again."

I'd call Game 2 a win.



Game 3 is in the books and it was a complete shut out. The opposing team never stood a chance, as we lured them into the 10 dozen Canada decoys we had set out. We tucked the blind up against a cattail-lined drainage ditch that divides a full section of barley in half lengthwise east to west. The drainage ditch, long dried out from the lack of winter snows and summer rains was a perfect spot to get tucked into, making our blind almost invisible. We went about setting out our decoys in the pre-dawn, blackish-blue sky with the lights of the city only a half-mile distant, as we were hunting the first set of fields bordering the city.

As dawn broke, we had action immediately at legal shooting time and 30 minutes later we were packing up with our three-man limit of Canada geese. I absolutely love it when those little geese decide to do it right. They were eating up the fast clucks and low growls I was feeding them as they approached the decoy spread and many, many flocks of all sizes came in feet down, wanting into our flock of imposters.

If it keeps up like this, I'm afraid we are going to run away with the series without a single loss!




Another big haul.
Well, if Game 3 was a shutout then Game 4 was an absolute run away! According to Ed, our hunt statistician and records keeper of all things hunting and shooting related, we fired at our first flock (well, Ed and Scott did, as I forgot to load my gun), at 7:32 am and we had picked up the last birds of our limit at 7:55 am... 23 minutes from start to finish. We had 1500 plus Canada geese in the decoys, feet down in that span AND THEN THEY REALLY STARTED COMING IN. The next 10 to 15 minutes saw another 2500 plus pour from the skies into the decoys in wave after wave... it was INSANE! Every bird was landing in and around the decoys any place they could find room. We had birds on the ground five yards from the blind, preening, fighting, feeding, landing and taking off only to land again. What a show! I've no idea how to top a morning of this magnitude?

Since the playoff turned out to be a 4-0 game series, the next hunt was to be a one-on-one showdown where I played guide for my wife, Deb. Deb loves to hunt as much as I do but her job limits her to hunting weekends only whereas my buddies and I can get out mid-week on my days off between work rotations. 

I played guide for Deb's final hunt of the season before we kicked off our rifle deer season. That will be another story for a later time. ■



For previous Reader Stories click here.