Most hunters have at one time or another mentioned the hunting Gods while hunting, either in passing or in jest. But more likely than not, most of us have privately asked the hunting Gods to bless us, perhaps smile upon us a little longer and hopefully bring us some good luck on a particular hunt.

And while there are many hunting Gods, the most famous of them all—Artemis—wasn't even a God but a Goddess, and quite often a nasty one at that.

In Greek mythology, Artemis was the daughter of Zeus, the king of all Gods, and twin to her brother Apollo, the God of music, healing, light and truth. Artemis was a possessive Goddess who punished those who disobeyed her with fury and wrath, but also when favoured, she was helpful and kind. Because of Artemis, as mythology suggests, the constellation Orion (also known as The Hunter), resides in our skies today.

Many of you who read this column will remember the story of my son Dakota's initial foray into the hunting fraternity at the tender age of 12-years-old. While sitting on a hillside overlooking a well-used game trail a young buck paused long enough for young eyes to take aim. The bullet hit the deer in the right spot and off it ran as deer so often do.  Unfortunately for Dakota, the deer was naught to be found as night settled around us.

Two days later, after we had returned home, ravens led our hunting partners to the location of the dead deer, not far from where it had been shot. The deer had piled up under the boughs of a large spruce tree, completely concealing it. Once informed, Dakota was ecstatic that his first deer had been found and couldn't wait to tag it and bring home the small antlers, knowing full well the meat had spoiled. However, tragedy struck again when, for the second time, the remains of the deer couldn't be found. Something had drug it off. Dakota was devastated by his misfortune and completely disappointed when the season ended with nothing to show for the long hours he had put in hunting during his first year; a young hunter who had spent many nights praying to the hunting Gods for good fortune while hunting in extreme conditions of -30 and better. The hunting Gods had failed him.

So perhaps it was the good side of Artemis that smiled on my young son this past October.

We had traveled north to one of my favourite hunting spots in WMU 511—a good spot with plenty of bush backing up onto farmland. Deer are abundant here as are grouse and furbearers.

The first surprise of our trip came when we spotted a large white wolf staring at us from less than 30-yards away. Shocked at how brazen the wolf was, we determined he had a kill close by and was reluctant to leave it. Had it been later in the year when his pelt would be in prime, we would have had a wolf to adorn the wall at home. However, we chose to pass on the big canine and gave him his space as we carried on. My first thought was that a wolf in the area wouldn't bode well for deer hunting, but we were here and Dakota was determined to fill one of his deer tags.


Dakota and the doe that filled out his supplemental whitetail tags.
We were hunting with one of my hunting partners, Ken Marlatt, and his young son Justin. We had planned to meet back at the truck at a predetermined time for a quick lunch and that was where Dakota and I were headed when we spotted a doe run from an old wellsite covered in a luscious growth of grass and clover. We quickly hunkered down waiting for the doe to step out on the cutline. Dakota's excitement grew as we waited. What seemed an eternity passed and just when I figured the doe had given us the slip, we spotted another deer standing in the middle of the wellsite clearing. Unable to shoot through the trees that blocked our view, we slowly crept along, keeping as low as we could until a clear shot presented itself. Dakota quickly took aim, squeezed the trigger on his Youth Model .243 and the young deer collapsed in the center of the wellsite. And then Dakota started hooting and hollering. He had done it! We quickly high-fived and then hurried to collect his prize.

While taking some photos we suddenly spotted the doe we'd seen earlier just a short distance off in the bush. I asked him if he wanted to shoot her as well but he declined. "One is enough for now, dad," he said. "Maybe Justin will get that one."

Surprised at his response, we finished the chore at hand and then headed back to the truck to meet Ken and Justin.

At Dakota's wish the next day we returned back into the same area. He couldn't stop talking about his deer from the day before and now he wanted to try for another one. We traveled a little farther back this time hoping we'd get lucky a second time. I was proud of him for the single shot kill he'd made the previous day and was hoping for the same result should an opportunity present itself.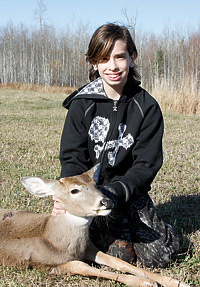 Dakota with his wellsite button buck. The first of two deer in two days.
As if it was meant to be, we were once again heading back to the truck for some lunch when a young doe stepped out on the cutline not 20-yards away. Dakota quickly had the deer in his sights but she was walking directly away from us, leaving a less-than-perfect shot. I encouraged him to wait for the deer to turn broadside. I gave a quick bleat and the doe slowly turned and stopped, looking directly at us. Boom! Dakota's rifle bucked and the deer quickly disappeared into the forest. I knew he had hit her but now the task would be to find her. Visions of last year raced through my head as we waited several minutes before beginning our search. The search was a short one, the doe had piled up less than 20-yards from where he'd shot her. He had now killed two deer in two days with two shots. It couldn't have been better.

When we got home I asked Dakota if he would be willing to write down how he felt after his success and if I could use what he wrote here. He agreed. This is what he wrote:

It felt good. Unlike last year, because last year I shot a deer and couldn't find it. That's a depressing story. This year it's a good story. I shot two deer, a doe and a button buck. It felt great and I was excited and I shot them in two days. It felt great and it feels like the Gods are on my side this year and last year it felt like they weren't. Compared to last year this is basically a tribute to my first deer and I've completed my goal by killing a deer this year and I went over that goal. One shot took the button buck down which caused extreme excitement and the doe was exciting but she ran and it wasn't as exciting as the button buck. Last year's depressing story I'm over now, it's in the back of my head. I'm very happy now and I want to thank everybody who sent me encouragement, especially mine and my dad's friend Pierre (Frigon), he really helped me a lot. Thank you.

And I couldn't be happier either.

Way to go son. ■

For previous Outdoor Pursuits click here.