It appears as though I have upset the apple cart and at least one of the "Protectionist-Conservationist Regime" is questioning my treatise regarding wolves in Alberta. See "Letters" re: Your comments in Big, Bad Wolves! Part II on page 14. (You may wish to read that letter before reading on here.)

Before I address his concerns, I will provide a little background.

His name is mentioned regularly in hunting circles when he is quoted in newspaper articles—almost always these articles end up portraying hunters in a bad light—and for one reason or another he appears to have mainstream media's attention.

His name is Jim Pissot, a machinist turned wildlife saviour from the United States and employed as the Canada Field Representative for the Defenders of Wildlife, an American group dedicated to the protection of wildlife.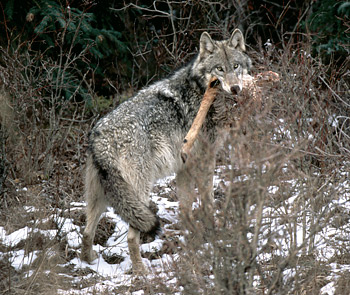 The wolf is another pawn in the money game for the "Protectionist Regime". - photo Duane Rosenkranz
According to the Defenders of Wildlife website: Defenders' main focus is restoring wolves to surviving former habitats in the lower 48 states and to prevent the extirpation of wolves in areas where they still exist.

And: While the major focus of our work is on wildlife in the United States, we can't afford to ignore issues beyond our borders.

At this point I would like to note that Mr. Pissot, who is stationed in Canmore, Alberta, was the executive director of the Yellowstone to Yukon Conservation Initiative (Y2Y), an organization stemmed from the Wildlands Project (now known as the Wildlands Network) that has a very suspect beginning that includes a co-founder well-known for his past exploits in eco-terrorism. This fact in itself is reason enough to offer up suspicion where Y2Y is concerned and many who work and play in Alberta's eastern slopes, including Alberta's Mountain Métis, share in this suspicion, considering they and others have been left out of any dialogue with those so focused on saving us from ourselves.

But I digress. Much has been written about Y2Y so for now we'll leave it at that and get back to the task at hand.

In his letter Mr. Pissot claims that he held several conversations with the Alberta Trappers Association (ATA) as an active participant on the Oldman River Basin Carnivore Advisory Group. I have no reason to not believe that this is indeed what he thought. However, the fact is the ATA as an organization was not aware of this dialogue.

In an email from Gordon Hoffman, the trapper who sat on the Advisory Group with Mr. Pissot, "What seems to be confusing here is I stated at the beginning of the committee that I was representing the Coleman Local (which has unfortunately now folded) of the ATA as we were the trappers that would be the most affected by the committee's decisions. I have to apologize to everyone as I believe Jim (Pissot) came onto the committee after that so he was most likely under the impression that I was representing the ATA. I'm not sure if anything from our local ever made it to Gordy Klassen."

Chalk this one up to miscommunication, but then for Pissot to suggest that ATA president Gordy Klassen—a man held in high esteem by Alberta's outdoorsmen and women—is ignorant of what has been happening in southwestern Alberta is ludicrous at best.

In fact, ranchers were so concerned with wolf predation on their cattle they contacted Klassen desperate for help. Klassen agreed to help and flew to Calgary where he was picked up by a local rancher.

"We all met at the MD building in Chain Lakes. We looked at maps and I learned from the ranchers what their concerns were and got a general idea of the road blocks in the way. In turn I spoke to them about wolves and wolf habits and made them aware of my concerns as a professional trapper. I instructed a number of ranchers on how to identify a good location and how I set wolf snares," said Klassen.

"During the winter and the spring I made a number of trips through the area to familiarize myself with the country and to understand the politics of wolves and cows in southern Alberta.

"With a city of a million people nearby, emotions and uninformed public opinions are easy to sway by shrewd manipulators."

Let's not forget that Mr. Klassen is not a paid employee of the Alberta Trappers Association, rather a volunteer who spends countless hours and much of his own hard-earned money representing the ATA because of his love for trappers and trapping.

Mr. Pissot also states in his letter that he made recommendation in agreement with the Advisory Committee to remove problem wolves after a "triggering threshold" was reached. In other words, if wolves were involved in "three predation episodes within a rolling three month period" they were targeted and killed.

By my estimation, a wolf that is involved in the killing of cattle only every second month or every two months consecutively with a month off... well, you get the picture, would get off scot-free.

Buried within the Canadian portion of their website it says that only individual wolves can be targeted and packs must not be removed.

Reading through the American portion of their website though, I can't seem to find anywhere that agrees to the killing of wolves. Might it be difficult to gather donations to pay salaries if it were known that wolves were being killed with the endorsement of Defenders of Wildlife?

I know that Mr. Pissot is a well-educated individual who believes in what he speaks, but the backbone of those groups he has risen through are American organizations that believe they have Canada's best interests at heart. However, as a Canadian—especially one concerned about the many issues we face right here in Alberta—I am offended that outside interests are being forced upon Alberta's outdoorsmen and women, and our wildlife. Do we not have the ability or wherewithal to look after that which we hold so dear on our own?

Especially concerning wolves, where we have a burgeoning population?

And while Defenders of Wildlife may indeed be proving up some nonlethal methods regarding the protection of both wolves and cattle, the fact remains; wolves and cattle don't mix. Wolves must be controlled through hunting and trapping because protecting wolves at all costs is not a favourable solution for anybody.

Defenders of Wildlife also claim as one of their success stories to have, "Stopped a plan by the Alberta government and University of Alberta to capture and kill wolves to boost elk numbers for hunters."

And they promise to "...affect broad policy changes by demonstrating success with nonlethal methods at the local level."

So, what happens when our wolf population grows to the point our ungulate populations crash, as we may already be witnessing in many foothills regions of this province?

Unlike our own AFGA who fight hard for conservation initiatives and invest hundreds of thousands of dollars to on-the-ground programs, I can't seem to find any money being put back into Alberta projects looking at any of Defenders of Wildlife's available documents. There seems to be millions upon millions coming in the door though, far more than any of the real conservation organizations in Alberta could ever hope for.

I find it hard to accept that we need direction given by outside influences. Our own conservation organizations are quite capable of protecting our own renewable resources, including bears and wolves. There is no reason to suggest otherwise. Yes, we may hold some common ground, but the fact is we're not quite sure just exactly what the Protectionist-Conservationists plans are. There is no transparency and numbers are bandied about to suit the day.

Hunters and trappers are criticized to the point that constant damage control is needed to defend ourselves in the media. Our image is constantly under attack without good reason. Yet, our contributions to conservation go unrecognized and attention is given to men such as Jim Pissot who have the media on speed dial, or they him, I'm not sure which.

It is for these reasons that protectionist-conservationist groups and their spokespersons must be poked and prodded at every chance. This is at the bare minimum; this is the price you have to pay if you wish to play. It is also the reason that our own groups, those of us who use the outdoors, who believe in responsible recreational access and believe in conservation that is balanced with our wildlife while maintaining our livelihoods, are suspicious of groups like Y2Y and Defenders and so many others. It is too one-sided. Where man comes in at a distant second regardless of the end result, is not an acceptable arrangement. ■


For previous Outdoor Pursuits click here.