I could see the massive body of water known as Lake Athabasca directly below us. While I had flown over it several times before the sheer vastness of the lake was still awe-inspiring as it stretches on forever with nary a shoreline to be seen. I was again marveling at its sight.

We had spent the night before at the Sawridge Inn Fort McMurray where we had enjoyed a fantastic meal and a few beverages with some good friends. The Sawridge Inn is my favoured place to stay prior to any venture into Alberta's north country and now, fully refreshed after a comfortable night's sleep, we were headed to Alberta's oldest European settlement, Fort Chipewyan.


The cabins at North Leland
Established as a trading post by the North West Company in 1788, it is affectionately known as Fort Chip and would be our landing spot and transfer point for the final stage of our journey. We were on our way to North Leland Lake where we would be spending four days fishing under the banner of Andrew Lake Lodge and Camps. My excitement was starting to build as I knew the fishing was going to be great as it always is in these pristine northern lakes.


This part of the world is known as the Canadian Shield and home to an array of water bodies dotted with rock islands, sandy beaches and mixed forests. The region comprises three percent of Alberta's land mass and is home to some of the oldest rock on earth, left behind by the Ice Age glaciers some 10,000 years ago. It is a place I hold close to my heart and I look forward to every moment I can spend here. It truly is one of the few remaining unspoiled places on this planet and home to some of the best fishing Alberta has to offer.


Rarely does a lake hold pike, walleye and lake trout.
North Leland Lake is unique in itself, offering the ardent angler the opportunity to fish for trophy northern pike, walleye and lake trout. Few lakes offer such an abundance of game fish and as I was soon to find out, the whitefish here can also get quite large and offer a surprising fight as well.


Bush pilot Chris Kipp soon had TJ Schwanky and I unloaded and he was again off to wherever it is bush pilots go. Our fishing partners, Pierre Frigon and Gord Trenholm, had arrived an hour before us and had our food and refreshments already put away in the spacious cabin we would be calling home for the next few days. In short order we had our boats loaded with gear and we were off. A map of the lake gave us direction and soon we were patrolling North Leland with its abundance of structure, a common feature of Canadian Shield lakes.


Pierre displays a supper walleye.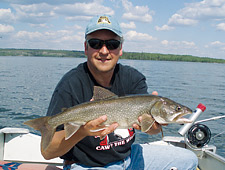 Gord holds up a fine lake trout. - photo TJ Schwanky
Pierre and Gord were after lake trout but TJ and I had other ideas. We wanted to feel the fight of a northern pike—in my mind the true trophy of these northern lakes. TJ was captain of our vessel and he soon had us into some pike. I had my fly rod out and was trolling big streamers while TJ was tossing spoons. Before long my fly rod was put away as I couldn't keep up with the action TJ was getting on spoons. We had found an area just off the point of a small island where a large rock rose up from the depths and decided to make a few passes by it. After catching numerous smaller pike in the three to four-pound range TJ suddenly felt a hard strike and we knew he was into something much bigger. The fish fought hard and peeled line from TJ's reel at will. The battle raged on for several minutes before TJ brought boatside a gorgeous pike that made the others pale in comparison. This was what we had come for. Soon we had the big pike released and he slowly disappeared into the crystal waters.


North Leland has some fascinating areas that can be explored by boat. The lake is massive in size but has enough narrow arms and islands to protect you from the winds should they arise. One area that intrigued us was at the south end where the lake narrowed for great distances. Pierre and Gord, moose hunters at heart, marveled at the amazing moose habitat while TJ and I couldn't help but wonder what these narrow waters would hold for pike in early spring, a time when the fly rod would be the rod of choice. Nearly a 45-minute boat ride from camp, we visited this area several times and not once came back disappointed.


The author with his unexpected whitefish. - photo TJ Schwanky
We managed to catch more pike than we cared to count during our trip, as did Gord and Pierre—who also spent as much time as they could chasing lake trout in the deep water with great success. When we'd meet, either back at camp or on the water, we'd share our day's stories and show the photos on our digital cameras. Pierre and Gord had done well with the lakers.

In the late afternoons the four of us would target walleye. Any form of structure that didn't hold pike was guaranteed to hold walleye and we were amazed at how many we could catch from a given spot before the bite would end. Catching supper-sized walleye was a simple task and we spoiled ourselves with a dinner prepared by the master chef Pierre. The walleye was indeed a treat and we filled up our bellies on the succulent meat while enjoying some fine wine and sharing the day's events.


On one occasion while targeting walleye I was hammered hard and thought for sure I had caught another big pike. The fight was a good one and both TJ and I were astonished when a large whitefish suddenly broke the surface of the water. The whitefish had fought incredibly hard and we were both amazed at its strength and stamina.


North Leland Lake is a true Alberta gem, offering anglers the chance to fish for northern pike and lake trout to a breathtaking 35-pounds and possibly larger. Walleye are said to reach 15-pounds and the happenstance chance at a jumbo whitefish makes for interesting fishing. Her waters are as pristine as they come and with numerous rock islands providing an abundance of structure in which to target both pike and walleye, the fishing doesn't get any better.

In June anglers can target pike in the many shallow bays and narrow arms that hold bait fish as these big predators hold in tight to recover from their spawn. They will readily attack any form of tackle tossed at them including flies for those so inclined to bring along a fly rod. Later in the season the big pike have to be targeted in deeper water as they search out the cooler temperatures.


Wildlife is at an abundance at North Leland. (Above) a mink fishes while (top) a rabbit eats near the cabins.
Walleye seemed to be everywhere there was good structure, especially between and around islands. Trolling crankbaits until you hooked up on one of these golden beauties was the best way to find them. At that point the switch to a jig guaranteed success and supper was easy to procure.

For those looking for an arm-wearying battle with a big lake trout, large rises in the deep water hold these power-tailed fish in abundance where they can be caught by trolling big spoons on a downrigger or by jigging at different depths. The lake is as shallow as you wish to fish and as deep as 130-feet and more.


The cabins are a treat as well with a tremendous amount of room to store your gear and essentials. Complete with fridge, stove and running water supplied by a water tower, all the comforts of home are available.

Eagles, osprey, numerous species of ducks, mink and other critters were seen daily while rabbits run freely around the cabins almost unafraid of human presence.


Boats are equiped with 9.9 hp Yamaha motors.
The 9.9 hp Yamaha motors on 14-foot Alumarine boats are all in impeccable shape and the boathouse contains enough lifejackets and seat cushions to make the many hours spent on the water comfortable ones.


Amazing sunsets capped off each day and left one with a serene feeling before nestling into a comfortable bunk.

If you haven't had the chance to experience one of Alberta's remote fly-in lakes, North Leland Lake should be your starting point—it really is all this and more.

For previous Outdoor Pursuits click here. ■