In Part I and II of Wolves in Sheep's Clothing? I have tried to bring some awareness to the connections between various environmental groups that are not only active in Alberta but also across North America. And there are a staggering number of these 'connected' groups who are determined to place their ideals on the rest of us, the uneducated who need protection from ourselves.

As previously written the very first eco-terrorist organization (Earth First!) that set foot in North America has spawned many other groups who view the protection of wild places as being successful only if it does not include man's footprint.

At work here in Alberta are several groups that—openly or not—support and promote the concept of rewilding and the connectivity of habitat by expanding existing parks and protected areas; creating new protected areas; and putting their own restrictions on these areas once secured.

Under the fluff of only keeping out industrial activity, far too often further restrictions impact hunters, anglers, trappers and recreational users of these same lands once a goal has been achieved. People living and working within close proximity to these areas are also impacted with a loss of income, as fewer opportunities become available to them.

One only needs to look at the impact Y2Y, CPAWS and the Alberta Wilderness Association had on the Cheviot Mine back in 1999, using the loss of the grizzly bear as the emotional carrot.

In the book "Transboundary Protected Areas: The Viability of Regional Conservation" published by Haworth Press (ISBN: 978-1-56022-095-4), about Y2Y it was written: To those critical of the public and private lands agenda of the environmental movement, Y2Y has siphoned up a tidal undercurrent of hydraulic anxiety. Y2Y has become a dark symbol of hidden agendas to disrupt development, livelihoods, and a way of life.

Protecting public lands from industrial development is an honourable objective and I will submit that there are groups who have a proper vision of how this should proceed—and it is with man's footprint.

However, the agenda of far too many groups leave all environmentalists with a tarnished image and a high level of mistrust from other users of wild places. In fact, some ideas are so far-fetched that there can be no opinion other than mistrust.  

The Canadian Parks and Wilderness Society (CPAWS)—and if you remember Harvey Locke, who some say dreamed the concept of Y2Y, however the plan is more than likely that of eco-terrorist Dave Foreman and an idea that was developed by Dr. Reed Noss in the early 1990's—along with Mountain Equipment Co-op (MEC), have recently created what is known as 'The Big Wild'—a concept that would see Canada protect 50% of its wilderness. According to their website, "The vision is based on a growing body of science that supports protecting large-scale wilderness to prevent ecosystems from collapsing." And, "Our vision is informed by the research of Noss and Cooperrider and other leading conservation biologists."

"The Big Wild" however is little more than another spin-off of what The Wildlands Project has already claimed, much like Y2Y and so many others with the same ideals.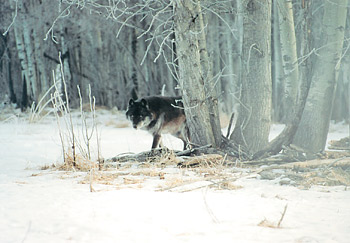 Environmentalists use wolves and the grizzly bear as a means to entice emotions.
And the average urban Albertan eats this stuff up without looking at the "big" picture. The poor grizzly bear and the wolf being the tear-jerker bringing urbanites into the fold. Putting the big picture into perspective, fifty percent of Canada being set aside as protected wildlands without development means the loss of thousands upon thousands of jobs virtually creating economic disaster, including heavy restrictions on what can take place on public and private lands.

The deterioration of our planet is becoming more, not less urgent and I would suggest few would argue that point. However, the lack of trust among users of wild places—the hunters, anglers, trappers and recreational users—and that of the wants of the environmentalists leaves huge tracts of skepticism within our ranks.

Can we trust them?

Or would they rather see us shut out of the places we so dearly love?

Those are questions that only the environmentalists can answer.  

Meanwhile Alberta's Land-use Framework is slowly coming together.

But with what appears to be a heavy-handed environmental push with Harvey Locke directing the "Green" side.

Behind the scenes planning and decision making groups were organized allowing for input in the initial draft. Unfortunately there seems to be a large number of environmentalists at the table who may or may not have our best interests at heart.

The Pembina Institute, along with Canadian Parks and Wilderness Society, drafted what is called "Alberta by Design: Blueprint for an Effective Land-Use Framework".

An interesting read.    

However, as a concerned BC resident facing the same Y2Y battles as Albertans do wrote to me in an email:

"Why does that stand the hair up on the back of my neck?

"Who's design? Do citizens and taxpayers have a say in this design, or should that be left to certain qualified individuals with economics and wise-use demoted to a brief mention in some appendix?"

Then suddenly another document appeared.

Called "Alberta by Design Checklist: Evaluating Alberta's Land-Use Framework" and drafted by the same aforementioned organizations. Circulated to the LUF planning and decision making groups it suddenly looks like an attempted hijacking of the process may have taken place. The document mentions "open and transparent processes" yet was dropped in the laps of working group members with little openness or transparency via a government email list, giving the impression that it was with government backing, which it was not.

In an email that found its way to my inbox I was astonished to see that the Alberta Environmental Network (AEN)—a "non-profit, non-partisan umbrella organization dedicated to helping preserve and protect Alberta's environment" and "open to any non-profit, non-governmental organization demonstrating sincere concern and action toward a healthier environment"—were talking about "getting out in front of the Government of Alberta's Plan for Parks" and "going to get out in front with 'our agenda.'" The agenda mentioned in the email was not disclosed but it would be interesting to know exactly what that "agenda" is. 

As earlier stated many environmental groups' work hard to protect special places from development while still allowing man's footprint. But many exist for reasons that border if not envelop extremism, rather seeing man extinguished from these same special areas. These are groups that can not be allowed to make or participate in the decision making that will decide the future use of lands in Alberta. However, their presence is being felt by those who fight for the proper management of public lands.

Sustainable development is resource use that aims to meet human needs while preserving the environment. And while many believe that sustainable development is not achievable, the idea is that human needs can not only be met in the present, but in the indefinite future. And there is much work that needs to be done in this regard, but the exclusion of man from the proper management of wilderness areas will not meet the needs of man or the objectives of sustainable development. And this is where the agenda of the Greens fails and the capitulation of society succeeds. There must be an equalization factor that takes precedence. Using the grizzly bear as reason for the bludgeoning of man's footprint in wild places is pure nonsense and fails to recognize the needs of man and places the grizzly bear on a higher pedestal than man.

There is room for all of us—the outdoor users, the environmentalists, and the great bear.

But until the legitimate Greens step forward and separate themselves from the extremists we will always be at odds.

Unless hunters, anglers, trappers and recreationists can go to bed at night knowing that what they truly love, wild places and the animals within, will not be taken from them because of a "Green Agenda" that exists in the ranks of so many in Alberta, there will never be trust among these groups.

Alberta's outdoorsmen and women do not want to see the loss of a species be it plant or animal and have proven this many times over. But we are starting to pay a high price for overzealous environmental restrictions that are being placed on our wild places, be it by expansion or by design, or by the desires of an environmental movement that wants to protect this country from itself. Those decisions do not belong to the environmental movement but belong to all of us. Because if those decisions aren't made together, then we are destined to a lifetime of mistrust when we are so close to wanting the same thing. ■

For previous Outdoor Pursuits click here.