ASK A PRO
OUTDOOR PURSUITS
READER STORIES
PHOTO GALLERY
TRAIL CAM GALLERY
HUNTERS OF THE YEAR
ANGLERS OF THE YEAR
RECIPE OF THE MONTH
ORDER YOUR
BACK ISSUES TODAY!
ONLY $7.00
(includes shipping)
I'm no basketball fan but when the opportunity presented itself on Monday, November 12th to shoot a trifecta of legal bulls, my thoughts drifted off to my brother-in-law and close friend Billy.

I have hunted hard for elk this year and had seen over 200 head during four hunts – two rifle and two archery. I was in on the old herd bull during the rut but had him slip away on the rifle opener. Frosty grass and too many ears foiled my stalk with my 9-year-old son in tow. After several good run-ins with a few rag horns, I was encouraged with the interactions but discouraged by the results. 

Fast forward to late October. Not much hunting pressure and some good fortune put me on three good bulls at 400 yards. As I approached them from a ravine up into an alfalfa/Timothy field, I spooked two does, who proceeded to scare my quarry. Those does could have run away any direction and I would have been okay, except one.
Why they ran straight at those forest horses with swords growing out of their heads (thanks Joe Rogan), I'll never know!

On to the November hunt.
Day 1 of 4 had me in that same field with Sam who always accompanies me during the whitetail rut. We got in on a large herd of about 40 elk. After a painstaking stalk, we had a beautiful bull in the crosshairs, broadside at 450 yards. Patience won the day and I declined the shot. Make a poor one and that field is blown out for perhaps a week or more.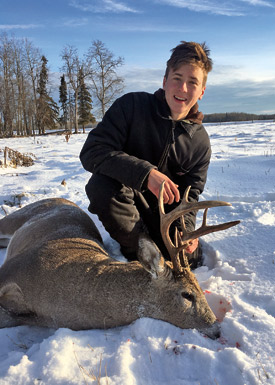 "Sam's 40-yard buck."

We hunted for a whitetail that night and passed on a youngster who came to our rattling in a different locale. I was so proud of Sam. Passing on game for better quality is definitely the sign he's maturing as a hunter. Not to disrespect anyone who shoots for the freezer, if that is your trophy and you fill a tag, I am supremely happy for you. We hunt deer for personal bests (if possible) as much as for the delicious meat that accompanies it. For that, I won't apologize.

Day 2 of 4 brought with it the aforementioned friend Billy in the wee hours of the morning. He slinked so silently into our travel trailer that we didn't awake. Great job Bill! We woke early and hiked the long way around to our outpost where the elk have always exited. Always, that is, until that morning. We had just finished rattling a half-decent buck in to 100 yards when the spotting scope screamed, "ELK!" They decided for whatever reason to filter out 1000 yards to our west. Another unexpected move! We left Mr. Buck and the herd to their own devices so as not to spook them. I had to remind myself yet again that patience is a hunter's best quality. There will be another day!

That afternoon brought my huntress wife, Dee, who left our four kids at home with wonderful friends. A party of four in the four-season fifth wheel, plugged into a generous rancher's shop... life was good.
Side note: I have a tremendous amount of respect for landowners who open their gates for us to hunt. I cannot fathom how they invite that complete inconvenience upon themselves. I am happy to call these northern ranchers my friends. God bless anyone who is reading this that gives permission. I mean that.

Day 3 of 4 dawned with the four of us commencing the 1.5-mile hike into the bush. There were no elk during that sit. Nuts! Mid-morning brought us about 40 elk crossing some cutlines at other locations. We glassed but to no avail. A legal bull did not appear to exist in the crowds. No deer popped out for Dee that evening, as our barometer told us a severe cold snap was rapidly moving in. She had to leave, emptyhanded. She doesn't mind. The goal is to spend quality time. Mission accomplished!

Billy was in conflict. He knew we were onto them. He felt it was only a matter of time, just as I did. However, he declined our fourth and final morning and opted to leave to spend the day with his wife and kids. "What are our chances of harvesting three legal elk tomorrow anyways," he exclaimed before leaving. Famous last words...

Day 4 of 4 Sam and I, now alone, headed back to our war of attrition with the forest horses. As we crept in before dawn, we managed to slowly bump about six elk out of the field. Our hearts sank. It was the end! No freezer full, no glorious story to tell the grandkids, no victory!

And then!

We glassed a lone elk in the pre-dawn darkness on the opposite side of the field. It was now or never. We literally ran across the 400 yards of full sky-lining to see if we could get a lucky shot. No dice, Mr. Elk moved off. We sat on the edge of the tree line and gave it once last, frail gasp. I blew a short, strong locator bugle. It was to signify our defeat and surrender to the greatest game species in North America. No sooner had I grieved that pitiful song, another answered us from our rear! Wait a minute, there was no elk there a minute ago! Sam then turned around to view what he thought was a truck driving into the field when we both witnessed something extraordinary – a herd of dozens and dozens of flat tops flying by us, Mach Chicken, 300 yards away. Enamored by the sight, I was frantically searching the herd for anything legal. As I will filter through many whitetails in a season, I do not apply that rule to elk. If it's legal, it's coming home with me. The table fare is far too good to pass. As I grow as an elk hunter, I undoubtedly will be pickier. Not so now. 

Sam nudged me hard and said, "Three more to the left!" I pulled up my binos to behold three legal wapiti! I settled in and managed to drop one at 380 yards. Sam did not have that distance in his repertoire and rose sharply to his feet and ran full tilt at the now curious duo of bulls who were openly trotting towards us. I stopped them with a bugle and Sam took care of business on rag horn #2. Double down! 

You already know the rest of the story. The third legal bull stood and watched curiously at his two "bedded" friends and gave us another 10 to 15-second glance at 220 yards before making his way with the still fleeing herd. Billy missed his chance. While his desire to spend time with his loved ones was noble, it teaches us all a very important lesson – NEVER put family over hunting! (Joking of course).


"Sam and Tyler with their bulls."

The ranchers got the good word and drove about nine miles with their tractor to help us string the bulls up to break them down. We ditched the elk, freshly tagged, to retrieve coolers, water and a little breakfast.

While driving back to claim our prizes, Sam looked to his left to see a lone deer amongst a cattle herd. He instantly has fire in his eyes. It's not his biggest deer to date, but definitely a unique one that he was very happy with. We waited until the nose-down buck withdrew from the bovines for a clear shot. Sam dispatched him at 40 yards with a perfectly placed 130-grain Hornady missile. What a morning!

In the end, those elk dropped 30 yards from each other. It was a feat we may never duplicate. Thanks to the confusion of the herd streaking behind us, it held those boys attention long enough to get our two young bulls down.

Billy, I am truly sorry you weren't there to nail your first elk. There will be another fall! I admire your choice to spend time with those little turkeys. That will pay large dividends! ■




For previous Reader Stories click here.