ASK A PRO
OUTDOOR PURSUITS
READER STORIES
PHOTO GALLERY
TRAIL CAM GALLERY
HUNTERS OF THE YEAR
ANGLERS OF THE YEAR
RECIPE OF THE MONTH
ORDER YOUR
BACK ISSUES TODAY!
ONLY $7.00
(includes shipping)
During the 2015 hunting season, I was able to tag a mule deer that is without question, unique. And it was a hunt I will remember forever.

I enjoy the stories that hunters submit to this page and thank Alberta Outdoorsmen for the opportunity to share mine.

Over the past number of years, work took priority over any hunting trips but with a little encouragement and offer to help from our oldest son Trevor who lives in Cranbrook, I finally applied for a zone versus the usual "999" and was successful.

Trevor started coming along with me on hunts at a very early age and has honed his skills to become an excellent hunter and outdoorsman. His two girls, our granddaughters, accompanied him that spring on a successful black bear hunt and had one of the hams smoked for Christmas supper. Perhaps another pair of hunters is in the wings but if nothing else, they were given an opportunity to experience the hunt. I believe it essential to encourage and help our youth learn about hunting, fishing and trapping. They may not get as involved as we do but at least they have had the experience and can make their own decision.

We set aside four days to hunt and I started feeling a long overdue sense of anticipation. Our preparation began in early August, focusing on clothing, game cart, rifle, and included trips to the range. I have used a BSA Majestic 30-06 for over 30 years and for a bit of nostalgia, decided to stay with it. However, I upgraded the optics for this hunt. I needed a better pair of boots with more support to handle the steep hills and a few other items so I had numerous shopping trips. Shopping isn't high on my list of activities unless it is a trip to my favourite outdoors outfitter. Outdoors mega stores are more like a sportsman's show so although I might go in for only one item, it usually includes time in all departments to see if there is something new.

We left Calgary early on a Wednesday morning and our drive to the Red Deer River gave Trevor and I time to reminisce about past trips. As well, I heard about his hunt in northern BC earlier in September.  

Our morning and part of the afternoon was spent glassing good-looking areas in which we spotted four excellent trophy bucks. I would have been happy with any of them but was reminded to be patient—we had plenty of time so we continued along the river.

Late that afternoon, we stopped at a new area and after glassing for about 15 minutes, a buck emerged from the willows and showed enough of himself to earn a "wow" from Trevor. He was a big-bodied deer with a very thick neck indicating he was still in rut. He not only had a heavy non-typical rack but also had a third main beam, which is very rare. It was too late in the day to attempt the stalk, but we decided that this buck was the one.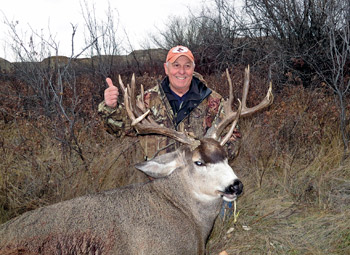 Ted Carruthers is all thumbs up with his unique mule deer buck

.

We got an early start the next morning and after locating him again, we watched the buck walk over a hill and disappear behind another, not giving us the opportunity to see where he bedded down. We made our way to the river bottom and found an area that gave a good vantage point, where we sat and waited... all day long. We never thought to take our lunch or water with us so with a cold wind blowing and a bit tired and hungry, at 4:00 pm we finally headed back to camp.

On Friday, Trevor's good friend Cody Dziadek, who offered to help if needed, joined us. The buck was in the same area when we arrived, so the decision was made to not move in until we saw where he bedded down—it was a good decision. He made his way to a patch of willows along the river, which would give him an excellent opportunity to move out along the river and behind thick cover if spooked.

Our stalk began and took over an hour to get within a couple hundred yards. The last fifty yards was a crawl, and the adrenaline rush started to kick in. Knowing the buck was within shooting range and not aware of us was a feeling that isn't easy to describe. We waited for a bit and then decided we needed to coax him out. Cody started with a few grunts and then scraping on the bush behind, which worked. The deer got up and was in full alert.

This buck did not get big by being stupid and as expected, he made his way out the end before stopping to look for what he thought was another buck looking to move in on his territory. It was obvious that he heard the grunts and was expecting a challenge, which was the trick to hold him long enough for me to get set. I made the shot and the first thing I heard after the echo was Cody saying, "He's down!" and Trevor letting out a loud "Yes!"


With the help of both Trevor and Cody, Ted's deer now resides on wall of the family cottage.

It goes without saying that a job well planned is a job half done, but the latter half is certainly the heavier. Years without enough physical exercise make a few of the tasks not only strenuous but also dangerous, especially with the steep hills. I helped where I could but accepted Trevor and Cody's help with gratitude and was thankful that I could keep up.

At first glance, the rack appears to be a whitetail or hybrid; however, no other characteristics were evident.

Thanks to the Calgary Fish and Game Association scoring team the non-typical mule deer scored 194 2/8. Trevor has been doing taxidermy work for a number of years and did a marvelous shoulder mount, which is hung in our cabin at Turtle Lake, Saskatchewan.

Our love of hunting is not just about taking an animal; we treasure the preparation, planning, scouting and during our time in the field, watching numerous other animals from coyotes to moose feeding and moving past without sensing we were there. This is a precious part of the outing and we don't think about the hunt without remembering it all.

My memories of past hunts are more about spending time in the outdoors with family and friends, along with the anticipation, preparation and appreciating nature.
 
Thank you Trevor and Cody for the hunt and memories. What a trip! ■




For previous Reader Stories click here.