Welcome to Volume 3 of the Outdoorsmen Forum Digest.

The purpose of this Digest is to help keep Alberta's outdoorsmen and women up-to-date on issues and events as they happen in Alberta related to our outdoor pursuits. From breaking news to press releases from Sustainable Resource Development, Alberta's outdoor stakeholders, and special events, special deals and a regular forum update, we hope you enjoy the Outdoorsmen Forum Digest.

If you wish to be removed from our email list you can opt out at the bottom of this page but we hope you enjoy this digest and take the opportunity to stay further in touch with Alberta's outdoor community.


OUTDOOR NEWS

MY WILD ALBERTA
At the beginning of June, Alberta Sustainable Resource Development launched the mywildalberta.com website. The purpose of the website is to provide Alberta's hunters, anglers and trappers with a one-stop shop where they can receive valuable information regarding their favourite pastimes.

My Wild Alberta features hunting, fishing and trapping information, a discussion board, events calendar, stories, videos, Alberta's hunting and fishing regulations, and links to the Government of Alberta's online licensing site, albertarelm.com.

Upon visiting the website, users can register and receive immediate notification of important events, news releases and information related to hunting and fishing in Alberta. Reminders of key dates (i.e., draw dates and season openings) and a newsletter, filled with hunting and fishing news, advice, events, stories and photos is also provided after registration.


---
BILL 201 RECEIVES ROYAL ASCENT
Alberta's Hunting, Fishing and Trapping Heritage Act is finally a done deal!

Bill 201 gives Alberta's outdoorsmen and women a statutory right to hunt, fish and trap that can be defended in court. This is a huge blow to the animal-rights movement in Alberta and secures the future of hunting, fishing and trapping in our province.
In a press release, the Alberta Fish and Game Association stated: "This piece of legislation will recognize Hunting, Fishing and Trapping as legitimate, rightful privileges under the protection of law and will serve us well in the future."
A 'thank you' should be sent to both Mr. Leonard Mitzel, MLA for Cypress-Medicine Hat who presented the bill, and SRD Minister Ted Morton who put his full support behind it.
You can reach Mr. Mitzel by email at cypress.medicinehat@assembly.ab.ca and Mr. Morton by email at foothills.rockyview@assembly.ab.ca

You can view the Act here


---

INDEPENDENT GRIZZLY BEAR SURVEY

The Willmore Wilderness Foundation (WWF) is doing an independent grizzly bear survey from May 1 to October 31, 2008. The final report and recommendations will be sent to Robin Campbell MLA who will present the findings to the Alberta Government Caucus.

The WWF asks that any grizzly bear sighting be reported to 1-866-WILLMORE or sent via email to info@willmorewilderness.com

Please report any sightings, tracks, scat or sign and if possible note the following:
date, time of day and location of the bear (GPS or provide land description)
the number of bears
the colour of the bear
photo of the bear, scat or tracks
what was the bear doing – activities?
The WWF believes the grizzly bear moratorium may have been the result of emotional environmental activism and propaganda, not justified science. "It is easy to theorize from an office in Edmonton or Calgary about life on the land. It is very different when your backyard is the wilderness," wrote Susan Feddema-Leonard in the 2008 Spring & Summer Edition of the Willmore Wilderness Foundation Newsletter.


---
SECOND OPPORTUNITY FOR UNDERSUBSCRIBED WALLEYE LICENCES
There will be another opportunity for anglers to purchase undersubscribed walleye licences from September 3 to December 19, 2008. Beginning at 8:15 a.m. on September 3rd anglers can reserve a licence by calling 1-900-451-3729. The cost of the Special Walleye Licence is $10.50 plus GST. An angler can hold a maximum of one Special Walleye Licence per year.

Currently there are 849 undersubscribed Class A Walleye Licences available for Newell Lake, as well as another 245 Class B undersubscribed Walleye Licences also available for Newell Lake. Pigeon Lake has 3485 undersubscribed Class C Walleye Licences available. Wolf Lake is sold out.


FORUM HOT TOPICS
The Outdoorsmen Forum once again is proving to be the forum of choice for Alberta's outdoorsmen and women. With more than 4000 registered members and several thousand lurkers, the Outdoorsmen Forum is your one-stop shop for outdoor information and discussion.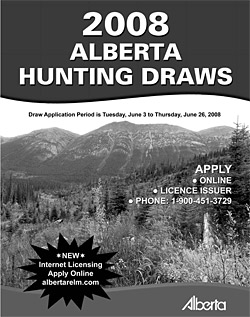 Discussion on the Outdoorsmen Forum has turned to the 2008 hunting draws season.
Maxpower2506 started the thread Sad statement on atv use. Maxpower2506, while on a tour with his ATV near Elk River, was saddened by the actions of many ATV users who hold little regard for the environment. Leading the way in the discussion is duffy4, Fluxcore, Brady, mulecrazy and TheClash. With more than 1200 views this thread is sure to continue to create interest among board users.

Hwy_6363 started the thread Packs. Hwy_6363 wanted some thoughts on a choice of pack to purchase before this year's sheep season. One of the benefits of using the Outdoorsmen Forum is that valuable information can be gleaned from other users who have tried various pieces of equipment and give their opinions. Leading the conversation is TheClash, Rust, Stinky Coyote and Tundra Monkey.
Recently many threads have surfaced on the Outdoorsmen Forum regarding the Hunting Draw Season that is finally here. New rules, online purchases, where, when and how threads have popped up on different forums. Stinky Coyote started the thread What's the scoop on the buffalo thing? With a new draw available for a bison hunt in Alberta, many are interested in taking the trip to Alberta's north country in pursuit of one of these magnificent creatures. Other draw threads include Draws Are Done!!(12:07 AM) by SakoAlberta, Online resources: hunter success and previous draws by Salvelinus, and Draw Books by gramps73.
On the Fishing Discussion Page Green Hornet started the thread Big Lake Trout In Spray Lakes Reservoir. For anybody wishing to fish Spray the discussion here, led by reel hooker and nicehole, is quite valuable. But the hottest topic on Fishing Discussion is the thread What is the strangest thing you have caught? started by The Fisherman Guy. From "Fruit-of-the-Loom Briefs" to an "old wallet with money" this thread is a very interesting read.


OUTDOOR SCUTTLEBUTT
ALBERTA REGULATIONS ONLINE
A stand-alone website has been created as an access point for Alberta's hunting, fishing and trapping regulations, as well as the Hunting Special Draws Booklet and Special Walleye Draws. This new access point simplifies things and gives you a portal from one location.

You can access the regulations here: www.albertaregulations.ca

CALENDAR OF OUTDOOR EVENTS
For several years now the Hunting For Tomorrow Foundation (HFTF) have provided a Calendar of Events highlighting events that may be of importance to Alberta's outdoorsmen and women. If you are interested in an event or having your event listed you can visit the HFTF at www.huntingfortomorrow.com/HFTF_Home/Calender%20of%20Events.htm

SRD GOES FACEBOOK
Alberta Sustainable Resource Development has started a Respect the Land in Alberta Facebook page. SRD is the first Alberta government department to use Facebook as a communications tool to promote responsible recreation and stewardship to protect Alberta's natural resources. The site is provided by the Government of Alberta and is meant to help spread the word about the importance of respecting Alberta's public lands. You can sign up at www.facebook.com/pages/Respect-the-Land-in-Alberta/29106485337

ALBERTA TRAPPERS ASSOCIATION CONVENTION 2008
This year the 35th Annual ATA convention is being held on June 20 and 21 in Grande Prairie. For more information visit the ATA website at www.albertatrappers.com/services/servicesConvention.html

YOUTH HUNTER EDUCATION CAMP - NEW WEEK ADDED
The camp is open to all boys and girls between the ages of 12 and 17. The YHEC is a five-day event of fun and learning activities. Experts will be sharing their know-how and providing instruction in the Alberta Conservation and Hunter Education Program and the Canadian Firearms Safety Course. For more information www.huntingfortomorrow.com/youth_files/2008%20YHEC%20Camp%203.pdf

15th OUTDOOR WOMEN'S PROGRAM
Join hundreds of other women for up to 5 days of learning, camaraderie, fun and begin to master the
outdoors. Women of all ages are encouraged to experience, explore, and develop an understanding of the natural world through over 23 different hands-on programs.

You can learn more about this program at www.huntingfortomorrow.com/women_files/OWS%202008%20Program.pdf


OUTDOORSMEN FORUM ADVERTISING SPECIAL

The Inns of choice for Alberta's hunters and anglers.



The Sawridge Inns offer Alberta Hunters and Anglers the following discounts:


20 % off regular rates on Thursdays, Fridays, Saturdays and Sundays
at our Slave Lake, Fort McMurray and Peace River locations.

Your home away from home when exploring Alberta's great outdoors.


ALBERTA OUTDOORSMEN MAY ISSUE NOW AVAILABLE

OUTDOORSMEN FORUM
MEMBER SPECIAL!

SUBSCRIBE TODAY BY CALLING (780) 413-0331
OR ONLINE AT ALBERTAOUTDOORSMEN.CA

RECEIVE 14 ISSUES FOR THE PRICE OR 12!
For new subscribers only. Must provide registered forum username
at time of purchase. Visa and MasterCard accepted.


Featuring Alberta's top outdoor writers with
TJ Schwanky, Neil Waugh, Brad Fenson, Don Meredith,
Duane Radford, JB Struthers, Claudio Ongaro, Brian Bildson,
Kevin Wilson, Bob Adams, Bob Scammell, Fred Noddin, Kelly Hymanyk,
Richard Mellon, Ron Montgomery and Rob Miskosky.
IN THIS ISSUE

CWD Control in Alberta
Willmore Moose Hunt
Jumping Ducks
Walleye, Pike and Perch
What really happened during
the 2008 winter deer cull.

Shevenell Webb takes us on a moose hunt in the Willmore wilderness.

TJ Schwanky goes duck
hunting in Southern Alberta.

Claudio Ongaro shows us five systems to better improve your fishing.